Google updates and algorithm fluctuations can make pro SEOs and novice webmasters shudder alike. When Google's big updates sweep the web, they tend to cause havoc – but mostly, for those who have been participating in unethical SEO practices. Although there are steps to take to ensure that your website content is not negatively impacted by regular Google updates, sometimes it can be far too tempting for some to cheat the system.
But even if you are not playing games with Google, it is still highly advised to keep an eye on the quality of your content and inbound links. Google has been known to change the rules a time or two, and low quality content is a primary culprit to cause traffic to tank.
Google's Panda Update: Falling Off The Content Cliff
Panda was introduced in early 2011 as a way to prevent websites with bad content from rising to the top. Panda's first update rattled the SEO community, impacting nearly 12 percent of all search results. Although Google's first Panda update caused quite the stir, it was one of those updates where Google was on the ball for penalizing websites that were not up to its standards.
During the time of Panda's first release, content farms were plaguing the search engines with poorly written content; some might go as far as saying that it was generally spam. These content farms provided little to no value to Google users, yet they were ranking higher than other websites that had much higher quality content.
Content farms generally did not aim to satisfy their audience, whether through education, entertainment, answering questions, or providing any kind of value. The goal of content farms was to produce as much content on a particular topic as possible, littering the copy with keywords and calling it a day. Google users just didn't click with content farms, and Panda put a quick end to their heydays.
Google recently released Panda update 4.1, and it looks like the update is still making its rounds in finding low quality content. While there are several noted differences in this Panda update, the overall goal for Google is still clear: provide users with the best available content on the web.
Panda 4.1: Where Are We Now?
With the newest Panda update occurring on September 25, 3 to 5 percent of search queries have been affected to this point. As Panda is working to address poor quality content on Google, a lot of information has leaked regarding how (and
who) Panda has decided to strike.
According to Josh Bachymnski, primarily known from Whiteboard Friday at Moz, there is a specific set of criteria when it comes to satisfying Panda. Some of these metrics include:
Task completion. If you have a web page that is specifically designated to prompt a download, user engagement and downloading your digital product has a pull with Panda. You can help your case with task completion by creating strong, exclusive content that your audience is unable to find or download anywhere else.
Quality off-site references. The higher quality, the better. You can score some high quality off-site references by guest posting or creating strong content on your own website. This can be anything from a standout blog post to a well-done whitepaper. The key is to get the big dogs to recognize you, and you can achieve that by regularly producing high quality content.
Signs of a legitimate business. In order to show Google that you are a real business, be sure to include quality content with an about page, mission statement, and privacy policy. This content can help Google and your audience know that you are the real deal.
Keeping content current. Adding new, fresh content on a regular basis is still a plus with Panda. Including a date with each piece of content is highly advised.
Of course, there are still key content no-nos that can get your website into deep trouble with Panda.
Old and outdated information. In Panda's quest to keep the world of content fresh and relevant, old and outdated information might be cause for concern when Panda comes to town. The way around this? Create evergreen content that never expires.
Bad spelling, grammar, and spun text. Crossing your T's and dotting your I's is necessary to please Panda. If you aren't the best speller, or grammar isn't your game, consider drafting your content in Microsoft Word and exporting when you are ready to publish. This can help catch errors that your browser's spell check might not find.
Main content is below the fold. Keep your audience informed as soon as they surf onto your website. Putting your content above the fold is best practice for Panda.
Above all else, Panda still remains as a fuzzy quality-content loving animal. Pleasing your audience with great content will also please Panda, and it will hopefully keep your website out of the bear's way.

Google's Penguin Update: Sending Bad Backlinks Through The Black Hole
While content farms were running amuck with low quality content, another spam-oriented tactic was being implemented to help bad quality sites get a leg up on Google. Once it was discovered that Google uses backlinks as a ranking factor in its algorithm, the race was on to obtain the highest number of backlinks possible. Black hat SEO techniques were implemented at this point, resulting in purchasing links or even creating low quality link farms. It worked for a while, and a boost was generally given to those with high numbers of backlinks.
Enter Google's Penguin update in April 2012. As an effort to remove shady backlinks and other forms of web spam, Penguin was introduced to wipe out websites that were dominating the search engines using shady tactics. These days, it is advised to tread carefully with the source of your backlinks. Avoiding spammy links will keep you on the good side of Penguin, and always keep to honest link building strategies such as creating quality and linkable content.
Penguin 3.0-3.4: Where Are We Now?
Penguin 3.0 was a long time coming, with the last update occurring over a year ago in October 2013. As SEOs and webmasters have worked diligently through the last year to remove spammy links and get out of Penguin's grasp, the update was a sigh of relief for some. However, Penguin 3.0 has continued to roll out through this month, and we currently are at Penguin 3.4 for this update.
So far, Penguin 3.0 in total has only impacted around 1 percent of all search queries. This is a much softer blow than what was expected, and there were reportedly very little changes coming from the highly anticipated update.
Penguin might have refreshed, but it looks like it is still not playing nice. The Penguin update is a tough blow to take as a web master, and maybe even tougher to recover from than initially expected.
Panda and Penguin: Was Your Content a Prime Target?
Now that you have an overview of how Panda and Penguin operate, you can start to self-diagnose and discover if your content was hit by either update. In order to fully evaluate where you stand with either update, you are going to need two tools: Google Analytics and Google Webmaster Tools. If you don't have either of these tools linked to your website, consider setting them up so you can review the impact of Google updates in the future.
Traffic Patterns That Correlate With Updates
One of the easiest ways to determine if you were hit by a Google update is taking a look at your traffic patterns. Using Google Analytics, get an overview of your traffic report using the graph in your dashboard. You can make your date range extend back as far as you want, but one month should be a pretty safe bet.
With your traffic graph in front of you, you are looking for significant (and sometimes dramatic) dips. You will definitely know it when you see it, and they can look something like this:

Your drop off might not be this sharp, but it's completely possible. In any case, the next step to detecting the impact of Panda or Penguin is analyzing the date range at which the decline occurred. According to the graph, the traffic drop off happened some time in late October. Judging by Moz's Google algorithm timeline, Penguin 3.0 refreshed on October 17, 2014. This graphic could be displaying the impact of Penguin.
In order to know for sure, we need to do a little more digging. This is where Webmaster Tools can assist with further evaluation.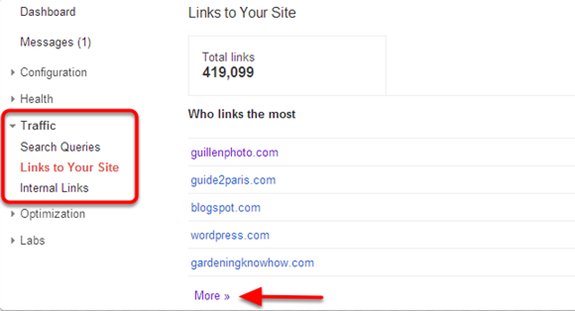 By opening the traffic drop down menu, you can take an in-depth look to links that are pointing back to your site. Click the 'more' link to load the whole list. From there, visit several of these links and determine if they are spammy. If this is the case, there is a high probability that your website was hit by the newest Penguin update.
So, What if Penguin is Not The Culprit?
Let's hypothetically say that the traffic pattern graph lines up with Panda's newest update release. If this is the case, you will want to stay within your Google Analytics account for the remainder of your exploration. The next step is to identify the individual pages that are experiencing the biggest traffic drops. Once you have located the suspicious subpages, you have some detective work to do.
Copy part of the page's content and paste it into Google search. This will help you find pages that have similar or identical content. Keep in mind that you can do a direct quote search by simply putting quotation marks around your search phrase.
Fire up Copyscape. Copyscape is a great program to help detect duplicate content and plagiarism. If you send content through Copyscape and you find a match, you can use the comparison tool to run your website and offender's side-by-side.
If there is a content overlap between your own page and an offender's, there is a chance that you are experiencing the penalties of Panda. Cleaning up the content mess might take some time, but it is vital for reviving yourself during the next update.

Are Major Google Updates Coming to an End?
With all of the curveballs that Panda and Penguin have thrown us over the last several years, it is speculated that an end might be in sight. There is a bit of evidence behind this claim, with one piece being the insignificant impact of Penguin's 3.0 refresh. Although Google claims that Penguin refreshes may happen more regularly going forward, right now it seems like the hardest hits might be over.
As Panda and Penguin have been around for a couple years, many webmasters have learned to do content development the right way: creating pieces that are informative, educational, relevant, and entertaining. The companies that have diligently worked to make great content a priority are, for the most part, succeeding. We know that nothing is foolproof when it comes to Google, but creating great content helps to ward off dreaded updates like Panda and Penguin.
With that said, Google is quite the unpredictable beast itself. Every time you think that you are safe and your SEO efforts are running smoothly, Google will seemingly flip a switch and things go haywire. The Pigeon update from this summer is a prime example, as that particular update caused wildly fluctuating results in the SERPs for quite some time. Some local businesses lost big time in this update.
It's too early to tell if big updates are done for good, but it is never too early to start creating valuable content. Content is still a major driving force behind websites that are favored by Google; the key to dodging nearly any Google update is to focus on quality content, your audience, and becoming an online authority with your brand.
Greatson Media
Great Websites, Web Hosting & Marketing!
(877) 283-2777