Pinterest, the online pinboard that's all the rage with the crafty set, has officially become a force to be reckoned with, in the traffic department. According to a report that appeared on Search Engine Land Sept. 6, 2012, Shareaholic announced that its stats reveal Pinterest has jumped ahead of Yahoo's organic search listings for referrals to publishers' websites. This is exciting news – it means that those who aren't on board with the social network would do well to jump on the gravy train before it leaves the station.
Shareaholic is a service that provides free social sharing widgets, tools, and buttons for webmasters. The service boasts more than 200,000 publishers, and the data it aggregates is a killer window into the world of Internet user behavior. If Pinterest is a frontrunner for traffic generation, plugging in and using the platform for some of your more visually appealing content may just give you the traffic spike your website so desperately needs.
Pinterest Referrals Versus Referrals from Other Top Sources
In the post, Shareaholic announced that Pinterest was the fourth biggest traffic-delivering website in August for publishers using the service's tools. Here's the official word from the post:
Image 1: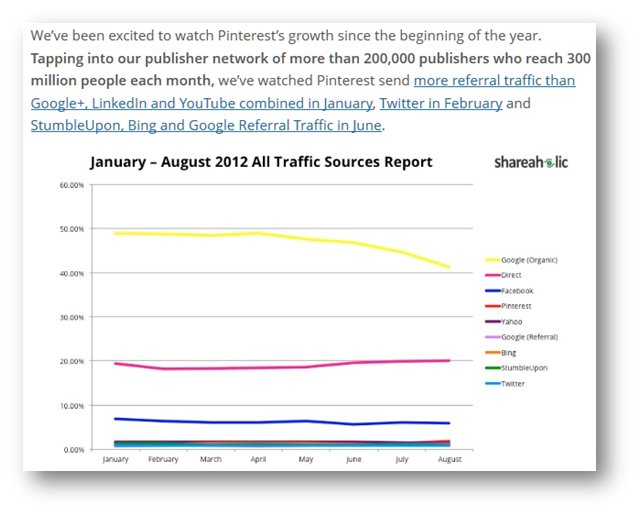 Of course, Google ranked solidly in first place with direct traffic distantly following the search giant. Facebook came in at third place. However, Yahoo placed fifth – Pinterest managed to pass the struggling search engine and beat out Bing. Now that's nothing to sniff at!
Here's another noteworthy tidbit from the post. Referral figures from the search engines Yahoo and Bing are down from the beginning of 2012. Referral traffic from Pinterest, however, is markedly up for the year. Remember, though, that this data is based solely upon information from roughly 200,000 sites that use Shareaholic tools, so the information is only a small piece of the overall puzzle. The info does serve as a great cross-section of Web trends, so the numbers definitely command some serious attention.
Interestingly, marketing firms are slow to warm up to the idea of using Pinterest to spread the word about clients' websites and brands. According to a recent post published right here on SiteProNews:
Image 2: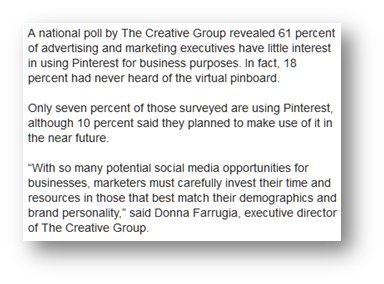 It stands to reason that webmasters and firms alike stand to gain quite a bit by leveraging Pinterest to promote their content and drive traffic to their websites. That said, let's look at the basics for getting started with Pinterest.
How to Use Pinterest to Drive Traffic to Your Website
Pinterest works for marketing, bottom line. However, if you want to maximize your ROI, consider these best practices should you decide to give it a whirl. First, only pin the cream of the crop. That is, start your experiment by selecting the single best post your site or blog has to offer. Don't just start pinning any and everything you write just for the sake of it. That's a wonderful way to get completely ignored by annoyed Pinterest users.
Second, ensure that there's an audience for the topic of your post on Pinterest. To do this, search for variations of the keyword that you're targeting on Pinterest to find out what people are pinning. Don't conduct your research haphazardly – seriously take your time to explore and dedicate a few hours to get a true feel for the pulse of your niche on Pinterest. Make a list of topics, pins, and pinboards that are the most popular and strive to make your content similar (yet slightly better and more relevant) for your audience.
Once you have the first pin under your belt, it's time to create a few pinboards. When you're setting up your boards, make sure to organize them in a way that makes sense for the people in your niche. Create separate boards for starkly different concepts, subjects, or ideas. People who are hunting for specific things will be more likely to click through to your site if something catches their eye on a highly targeted board you've created, so don't forget to add a descriptive cover image and use keywords on every pin. This approach will enable you to reach every possible segment of your potential audience.
Don't just create a few pinboards then log out and call it a day. There's quite a bit more work entailed if you want to effectively drive traffic to your website using Pinterest, and the name of the game is community involvement. For starters, add "Pin It" buttons to your social sharing buttons on your website. This will encourage active Pinterest users to pin things they like from your website with one-click ease.
The most important part of community involvement is (drumroll, please)… actually involving yourself in the community. This is where all that research we first talked about comes in. When you discover what people in your niche are pinning, that's the time to start following them. Repin things they pin. Comment on things that you like. Get yourself on their radar, and the domino effect will happen naturally.
Such is the nature of the Internet. We live in the age of the golden rule – give and you shall receive. The more you interact and promote others' pins, the more others will return the favor. It's true of Pinterest, just like it's true of Twitter, Facebook, blog commenting, and pretty much any other online interaction. Basic advice? Yes, but tragically overlooked. Give and you'll have success driving traffic to your website with Pinterest.
One problem: all this is a huge time suck, and time is the single greatest resource you have. The trick is to balance all that precious time you're spending, developing your website with your varied social activities and your other online marketing efforts. You must also evaluate your traffic sources constantly to determine whether the ROI is truly worth the cost.
Pinterest demands time to pull traffic. Is it a task worth delegating? Eventually, yes, if you begin seeing enough website traffic from Pinterest referrals to justify the cost.
By Nell Terry (c) 2012