Google OS: the end of the hard drive?
By Dylan F. Tweney
November 20, 2009 8:23 a.m. EST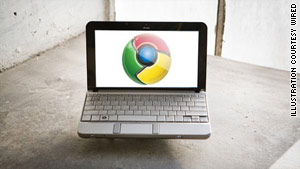 Computers that run on Google OS may boot up in only 7 seconds, like a TV.
STORY HIGHLIGHTS
Google reveals new details about its upcoming operating system
The OS should boot up in 7 seconds, similar to a TV
The operating system, called Chrome, is due out next year
It is expected to function more like a browser than like Windows
(WIRED) — Google today unveiled more details of Chrome OS, a lightweight, browser-based operating system for netbooks.
With a strong focus on speed, the Chrome OS promises nearly instant boot times of about 7 seconds for users to login to their computers.
"We want Google Chrome OS to be blazingly fast … to boot up like a TV," said Sundar Pichai, vice president of product management for Google.
The first Chrome OS netbooks will be available in late 2010, Pichai said. It will not be available as a download to run and install. Instead, Chrome OS is only shipping on specific hardware from manufacturers Google has partnered with. That means if you want Chrome OS, you'll have to purchase a Chrome OS device.
Google is currently working with unnamed computer manufacturers to define specifications for these computers, which Pichai said will include larger netbook-style computers with full-size keyboards, large trackpads and large displays.
Chrome OS netbooks will not have traditional hard disk drives — they will rely on non-volatile flash memory and Internet-based storage for saving all of your data.
All the applications will be web-based, meaning users won't have to install apps, manage updates or even backup their data. All data will be stored in the cloud, and users won't even have to bother with anti-virus software: Google claims it will monitor code to prevent malicious activity in Chrome OS web apps.
"Chrome OS is a totally rethought computer that will let you focus on the Internet, so you can stop worrying about your computer," according to a Google promotional video shown at the event, held at the Google campus in Mountain View, California.
As part of its announcement today, Pichai said that Google would be releasing all of the operating system's code and design documents to the public.
Introduced in July, Chrome OS is a Linux-based, open-source operating system centered on Google's Chrome browser. Applications will run exclusively inside the browser, Google said Thursday.
"As of today, the code will be fully open, which means Google developers will be working on the same tree as open developers," said Pichai.
The OS's focus on design is consistent with the company's stance that the future is in the web. In July, Vic Gundotra, Google's engineering vice president and developer evangelist, spoke on a panel about app stores, in which he said native apps (such as those available for the iPhone) would be obsolete in the future, and that the Web will "become the platform that matters."
"Every capability you want today, in the future it will be written as a web application," Pichai said Thursday.
Netbooks — lightweight, low-powered sub-notebooks — were the surprise hit of 2008 and 2009. However, with the growth of netbook sales slowing — and the prices of some full-powered notebooks dropping below $400 — the continued viability of the netbook sector is an open question.
Though netbook shipments are falling below manufacturers' expectations, the inexpensive, low-powered devices appear to still be selling well. Pichai cited research figures from ABI research indicating that 35 million netbooks shipped in 2009, more than twice the number sold in 2008.
Manufacturers have yet to announce pricing on netbooks shipping with Chrome OS, but Google expects the cost to be about the same as current netbooks. On average, netbooks cost between $300 and $500.