By Tom Krazit, CNET
May 18, 2010 9:13 a.m. EDT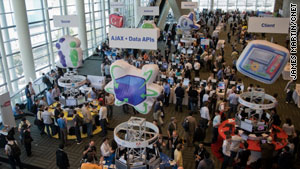 Google will take over San Francisco's Moscone center again for its annual developer conference.
(CNET) — How much bigger can Google's world get?
As Google prepares for its third major developer conference, it's getting ready to pitch its vision for the future of computing to 5,000 developers and media at San Francisco's Moscone center.
When I/O kicks off on Wednesday, don't expect Google CEO Eric Schmidt to break out into a passionate "Developers!" chant like his counterpart at Microsoft, CEO Steve Ballmer, did all those many years ago.
However, this is clearly one area in which Google and Microsoft — bitter rivals otherwise — can agree: developer support is crucial to the growth of technology platforms. Google has scheduled press briefings for its enterprise, Wave, Chrome, and Android technologies, giving us a pretty good idea of what topics it intends to highlight during the show.
One major thing has changed between last year's show and this year's, in that Android is now a mainstream operating system that is increasingly butting heads with Apple's iPhone for mindshare among consumers and developers.
We already know that one major highlight of Google I/O will come from Adobe, which plans to demonstrate Flash Player 10.1 running on an Android phone at the show. Google will also likely use the occasion to launch — or at least show off — Android 2.2, code-named Froyo in keeping with Google's sweet dessert theme of codenames for Android releases.
Both of those launches could have an impact far beyond the development community, as Google and Adobe will force the issues raised by Apple CEO Steve Jobs in his "Thoughts on Flash" letter by seeing what the market thinks of Flash on smartphones. That may not come until later in the summer when Android 2.2 devices ship with Flash, but I/O will set the stage.
It's quite possible Google could also use the occasion to show off what Android can do outside of smartphones.
Several reports have indicated that Google and other partners are working on set-top boxes and televisions loaded with Android software and dubbed "Google TV," and it would not be a surprise to see the first examples of that project onstage at Google I/O.
Expect to hear more about other Google hot-button technologies such as Google's push into the enterprise and its social-networking technologies, namely Wave and Buzz. Google chose the 2009 Google I/O as the coming-out party for Google Wave and has since promised to open the service up to the general public by the end of June.
The third Google I/O comes at a time when Google is rapidly maturing into an industry powerhouse and a company that many love to hate. Its reputation as a search giant remains unchallenged, but its Web-based software development efforts are more and more familiar to everyday Internet users than they were two years ago, as interest in products such as Google Apps and Google Chrome grow and start raising competitive hackles around the tech industry.
That means Google I/O is becoming more than a gathering place for developers seeking more information and education regarding Google's world.It's a stage for Google that will draw the attention of those who can't code, debug, or predict the future of social media.
That's just an outgrowth of Google's push into more areas, the same way Apple's developer conferences became much more than a gathering of the Mac and iPhone development communities as Apple chose to introduce new products like the iPhone 3G or strategies such as shifting to Intel's processors. At some point, these gatherings become media events as much as anything.
Google executives are among the most often seen in Silicon Valley, discussing their products, technologies, and ideas nearly every day of the week. But as Apple would say (assuming Apple ever said anything), there's something to be said for having your own big stage with a friendly audience when making a pitch to the world.
Google will take that stage Wednesday. We'll have live coverage both Wednesday and Thursday, and plenty of reaction to whatever Google puts on the agenda this week at Google I/O.
© 2010 CBS Interactive Inc. All rights reserved. CNET, CNET.com and the CNET logo are registered trademarks of CBS Interactive Inc. Used by permission.